LandVision™ Help > Documentation > School Data
There are two main types of school data available within LandVision: Basic Schools Districts Data (for LandVision Builder, Enterprise, or Commercial), which provides school district boundaries with aggregate school ratings, and Premium Schools Data, which provides individual school attendance zones with corresponding ratings. The Premium Schools Data is available as an add on for LandVision Builder, Enterprise, or Commercial.
Viewing School District Ratings
---
Click on the School Districts layer in the Legend to turn it on. (The Checked Box means the layer is turned on.)



School districts appear on the map, color-coded based on their Rating.
The color-coded Rating is explained on the School Districts layer: 1 (worst) to 10 (best).




Click your school district of interest on the map. The School Districts window appears with data about the district.




Click the Name link to view ratings of individual schools within the district.
Click the District Website link to view the district's website.









Premium Add-On: School Attendance Zones
---
LandVision provides many tools for analyzing land and property, including visual mapping and insights into local schools. Available as an add on are the school attendance zones, with the individual school quality ratings. The map display is color-coded by individual school rating, and at the parcel level, you can quickly see the assigned schools and are presented the rating. Speak with an Account Manager to learn more about this premium add on.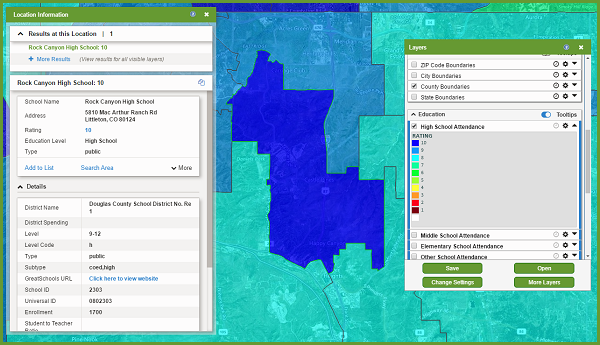 Related Information
---