Experience GIS Success with

Deliver GIS Instead of Building It
CityGIS™ is now GovClarity™. The next generation of CityGIS™ is here with a redesigned interface, powerful new features, and a new name: GovClarity™. Learn More >
CityGIS™ is the solution for fast, cost-effective delivery of GIS to your organization. Digital Map is the leader in the next generation of mapping solutions – delivered as a service over the internet. As an alternative to complicated and expensive enterprise applications, CityGIS™ succeeds at "GIS as a Service" by enabling:
Faster deployment time
Lower total cost of ownership
Ease of use combined with ease of access
Regularly updated data
A highly customizable, yet compatible solution
GIS as a Service
CityGIS™ is "GIS as a Service" with standard data layers included. Your staff will become productive and begin accessing the data immediately. With CityGIS™ your organization can quickly access information, serve constituents, collaborate on projects, and manage map data directly from every desktop. Deliver decisions and services better than ever before.
Spend Less
CityGIS™ is ideal for today's constrained budgets. Building a comparable in-house application costs more than four times a CityGIS™ subscription in hardware, software, staffing, training, application development, support and maintenance. CityGIS™ can even pay for itself. Example: The City of Palos Verdes Estates in California has created a revenue stream by charging for radius maps (performed through the notification feature) necessary for the building permit process.
A notification feature highlights and lists properties within a buffer zone, as set by the user.
Notices and mailing labels are easily generated for properties within the buffer.
Choose the site address or the owner address and a wide variety of label sizes.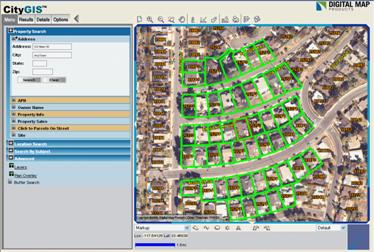 Ease of Use & Ease of Access
Digital Map is distinct in our ability to offer GIS technology to non-technical professionals. CityGIS™ is designed so that individuals and organizations with no GIS experience or knowledge are able to perform GIS tasks like an expert. CityGIS™ is the solution for extending map data and analysis throughout the organization over the internet. Collaborate across departments or agencies and share information with ease using CityGIS™.
CityGIS™ data are continually updated ensuring that you receive access to the highest quality data. Take advantage of the weekly updates to property information, current aerial photography and other regularly updated data. The CityGIS™ software is also seamlessly updated and requires no IT support. CityGIS™ takes the hassle out of delivering a successful GIS solution.
Customizable & Compatible
CityGIS™ is your solution for GIS success. It is both customizable and compatible with your existing map files. CityGIS™ can be customized with:
Custom data - Digital Map's team of professional GIS consultants help create and load custom data sets through the Premium Data Program.
Custom map layers - CityGIS™ supports dozens of different map layers such as historical sites, utilities, zoning, hazardous materials, school boundaries and code violations.
Editable layers - you can create, edit and maintain map data directly. Maintain data on signs, trees, NPDES, Capital Improvement Projects, and more.
Many optional user settings
The Digital Map Application Programming Interface (API) to customize and extend capabilities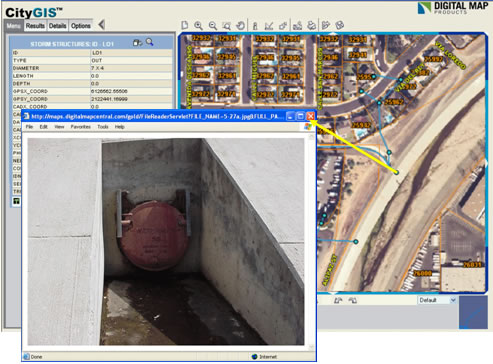 The options are endless!
Add your existing data or contact us to assist in acquiring, integrating, or custom building maps to your needs.
This example shows storm drains with pictures attached for a quick visual.
The Digital Map Advantage