---
LANDVISION SPRING 2016 RELEASE
---
LandVision Help > What's New > Spring 2016 Release
Digital Map Products is excited to announce the Spring 2016 release of LandVision. This latest version includes robust user interface improvements, significant data enhancements as well as new features and is the result of your valuable user feedback.
Keep reading below for more details on what's new in the LandVision Spring 2016 release and for links to additional information how to use these new features.


User Interface Improvements
---
LandVision has a new look and enhanced usability! LandVision is now even easier to use as we've made substantial improvements to the product interface with a research-based approach incorporating our customers' input. We've revamped the main Toolbar, Layers (formerly Legend) Display, Search Filter options, and other areas. The updated interface boasts a sleek, modern look and feel.
In this LandVision Spring 2016 release, you can more clearly see menu options available to you, understand how they work, as well as discover new features more easily. You will be able to conduct real estate research, access detailed parcel and property information, navigate the map screen, and perform regular tasks even more rapidly now with improved menu iconography and more intuitive work flows.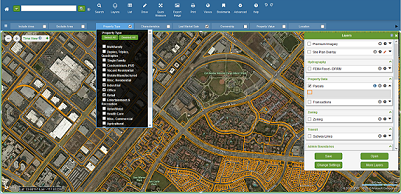 Visit the links below to learn more about using key areas of the LandVision interface: Product Interface | Toolbar | Search Filters | Layers


Sales Transaction Data Updates
---
LandVision includes broad and deep national parcel and property data coverage, including recent sales transaction information. In this release, we've greatly expanded our sales transaction data coverage across the country by over 30%, bringing the total number of counties providing continuous sales transaction updates to over 2000. Working with a Fortune 500 third party partner, we process the latest sales transaction data as soon as it is available, thus enabling our clients to consistently access the most current information in LandVision.

Interested in expanding your subscription coverage to include some of these newly available areas? Contact your account manager today to explore the options.


Premium Schools Data: Now Offering Attendance Boundaries with School Quality Ratings
---
LandVision provides many tools for analyzing land and property, including visual mapping and insights into local schools. In this new Spring release, we've added school attendance zones and individual school quality ratings. The map display is color-coded by individual school rating, and at the parcel level, you can quickly see the assigned schools and are presented the ratings.

With this comprehensive information at your fingertips, you can factor insights into local schools into your location-based analysis and decision-making.

* Premium Schools Data is available as an add-on to LandVision Builder and Commercial editions. Please contact your account manager for more information.

Visit the link below to learn more about this feature:

Schools Data


Large Area Buffer/Corridor Query
---
Our Spring release features an exciting new addition to LandVision, the large area buffer/corridor query. Using this new feature, users can quickly and easily capture all of the parcels that will be impacted by a project taking place around a large subject area, such as a right of way corridor, at one time for processes such as notification or pursuit of easement rights with the property owners.

Users can access and even export parcel, property, and owner data for parcels within a large area buffer, for use in notification initiatives or other aspects of the project management. While a variety of LandVision clients may find this useful, it may be of particular value to those in the Utility, Pipeline, Telecom, and Transportation industries.

* The Large Area Buffer/Corridor Query capability is available as an add-on to LandVision and if parcel data extracts are needed may require an on-site data license. Please contact your account manager for more information.

Visit the link below to learn more about this new feature:

Large Area Buffer


Pictometry Interface Integration
---
For LandVision clients that also subscribe to Pictometry, now you can access Pictometry directly via LandVision and move between the two applications for heightened location intelligence. New in this Spring release, the Pictometry integration to their web service enables LandVision users to select a location on the LandVision map screen and launch the Pictometry application within an iframe web browser for further map analysis.

* The Pictometry integration feature is available for LandVision clients that also have a Pictometry Gateway API subscription. If you already subscribe to the Pictometry Gateway API, contact your Digital Map Products Account Manager or Customer Support Manager to incorporate the Pictometry Interface into your LandVision account.


Performance Improvements
---
The Spring 2016 release is full of performance improvements that make LandVision even faster, more stable and reliable. We've been busy upgrading our underlying technology platform with cutting-edge database architectures as well as hardware improvements, which facilitate more powerful and interactive search and filter capabilities at more rapid speed. We're always striving to improve performance of our products, including during times of peak usage, so our customers can consistently take advantage of faster speed to decision and larger, more complex data analysis than ever before.
---
| | |
| --- | --- |
| © Copyright 2016 Digital Map Products | |
---