Property Panel Improvements
The Property Panel is your central hub for all things Property. With this release, we've reorganized the cards to prioritize the information you use most, added new data elements, and embedded quick links to additional information and map layers.

Three new Property Panel cards debut with 8.14 – Demographics, Debt, and Reports. Ownership and Last Market sale are in more prominent locations. And with our new quick links, you can link directly to Document Images from the Document Number on sale and debt transactions and turn on the Traffic Map Layer from the Site and Demographics cards.
New Property Search Fields
The ever-popular Building to Lot Ratio attribute is now available on the Property Search Filter so you can target your searches based on site utilization. Also included in the Property Search Filter are current loan attributes such as loan origination and maturity dates, loan amount, and lender name, all in a new Debt section.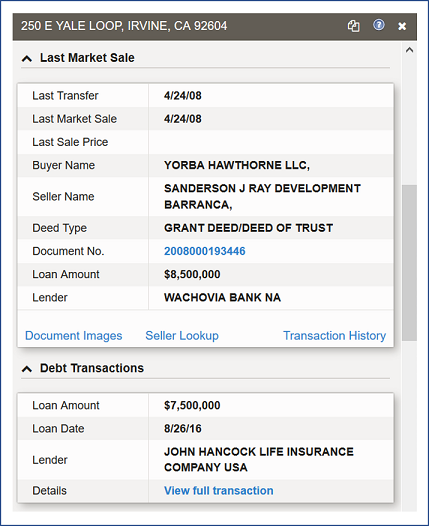 Expanded Demographics Data
We've expanded our Demographics* data in LandVision with a new summary card, attributes, and statistics. Now you can access counts and percentages for population segments such as children, seniors, and college educated individuals. We also linked demographics into the Property and Opportunity Zone panels for more rapid access to this valuable dataset.

*Available standard in LandVision Builder and Commercial editions.
Visit the links below to learn more about this feature:

Property Panel | Debt Transactions | Document Images | Property Search | Demographics