---
LANDVISION SUMMER 2015 RELEASE
---
LandVision Help > What's New > Summer 2015 Release
Digital Map Products is excited to announce the Summer 2015 release of LandVision. This new version brings several enhancements to existing functionality and robust new capabilities, all of which were a result of your valuable user feedback.
LandVision is now even easier to use, has improved performance and stability, and boasts some exciting new features to take your real estate research and analysis to the next level. Making its debut this Summer is our TimeView* feature, providing access to the latest nationwide satellite imagery and a rich database of historical imagery. This release also includes a completely revamped Print interface that includes print preview as well as a new Premium Points of Interest layer with hundreds of new brand logos and convenient access to POIs from the Property balloon. Furthermore, we've almost doubled the available geographical coverage for LandVision.
But that's not all. Keep reading below for more details on what's new in the LandVision Summer 2015 release and for links to additional information about how to use these new features.
*TimeView is available as a paid add-on to LandVision Enterprise, Commercial and Builder Editions. Premium Points of Interest is included in LandVision Commercial and Builder.


ENHANCED USABILITY
---
One of the most notable usability enhancements of the Summer 2015 release is a complete redesign of our Print functionality.

Our new Print features a streamlined interface, print preview capability, and even the ability to have custom print templates created for your account. We've also made several bug fixes which offer a better overall user experience.

Another popular feature with enhancements is the Draw Circle markup tool.

Now you can input a specific size for your circle using the radius input box on the Drawing Toolbar to precisely size your circle.

When using the locate box to search for Owner Names, you'll see up to 5 of the closest results returned from the center of your map. And lastly, you no longer need to run Internet Explorer 11 in compatibility mode.

Select editions also have some great new features. Namely, Enterprise and Builder editions now have Address Autocomplete on the Locate box. Builder edition boasts new identify functionality on the information balloon that clearly shows when there are multiple results at a given identify location (More Results). It also includes our Map Views feature which allows you to not only easily create and save custom map views to present to your clients, but also helps in organizing your projects for easy access.



Visit the link below to learn more about these new features: Drawing Tools | Locate | Map Views | More Results | System Recommendations


BETTER PERFORMANCE AND DATA QUALITY
---
This Summer release is full of performance and data improvements that make LandVision even faster, more stable and reliable. We've been busy upgrading our servers and datacenters and refactoring our underlying technology to allow for larger, more rapid filtering and searches, and more responsive parcel identify, particularly during times of peak usage.
On the data side, we've nearly doubled our data coverage across the US and implemented more frequent data updates. We now cover almost 100% of the top 25 highest growth metro areas in the US, added transaction updates for hundreds of counties and moved to nightly processing and publishing of data updates to ensure your LandVision data is as current as possible.
To find out more about our newly available coverage areas, please view the updated LandVision coverage map on our website or call your account representative today to discuss expansion options for your account.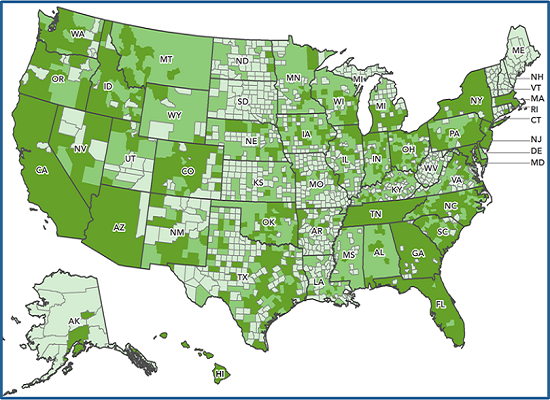 Visit the link below to learn more about these new features: LandVision Coverage Map


NEW SATELLITE IMAGERY
---
TimeView is one of our most powerful new features and offers access to the latest in nationwide satellite imagery as well as a rich database of historical imagery, all from the convenience of your LandVision interface. With TimeView you can see the most up-to-date imagery available, analyze competitor and other development activity by viewing changes over time, and leverage a comprehensive imagery library for use in printouts and presentations.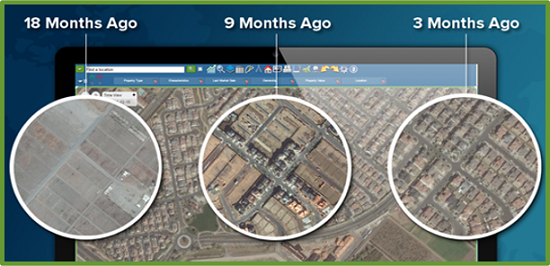 TimeView can be added to any LandVision Enterprise, Commercial or Builder account. For pricing information, click the TimeView Info Request link below or contact your Account Manager. Even better, you can try out TimeView for yourself with our free 30-day trial as part of this release. Look for the TimeView button in the upper left of your map screen.

Whether you're researching competitor activity, analyzing new development areas, or presenting to your stakeholders, TimeView integration within LandVision empowers you with powerful tools and information you simply can't get anywhere else.



Visit the links below to learn more about these new features: TimeView | TimeView FAQs | TimeView Info Request


IMPROVED POINTS OF INTEREST
---
Another great new feature is our improved Premium Points of Interest data in LandVision Commercial and Builder editions. Recognizing how important the Points of Interest data is to your site and market analysis, we're always looking for ways to make it more useful for you.

To start with, we consolidated the two Points of Interest search forms into one, simple form that captures all your POI research needs.

Further, we made it even easier to access the Points of Interest data by linking it into the Property Summary Balloon. Now, when you click on a parcel, you can see how many Points of Interest are located on that parcel and even click through for details on those businesses.

We've also significantly increased the size of our brand library by adding over 400 new brand icons for major retailers and restaurants to streamline the creation of maps and presentations.

Lastly, LandVision Builder edition now has the ability to quickly create custom site maps featuring over 2000 brand logos with the Quick Map Exhibit option.






Visit the links below to learn more about these new features: Points of Interest | Quick Map Exhibit
---
| | |
| --- | --- |
| © Copyright 2018 Digital Map Products | |
---